Based on that, Josh Kennedy wasn't the only Eagle who was showing concussion symptons.
---
YOU CAN HEAR EVERYTHING WE SAY
Back in the day, someone like Rex Hunt would've fired back with some kind of profanity-filled tirade, and we would've had a laugh, and 3AW wouldn't pull Rex off the air.
---
We still don't know if Dusty will marry this guy's sister
Obviously a marriage proposal is something that Dusty needs before he demonstrates the textbook use of the banana:
I'd contend that the only thing that had a bigger bend at a right angle than that kick was Michael Barlow's leg after Rhys Palmer clattered into him in Round 14 of 2010.
---
This guy invaded my dreams on Thursday night
That 36 point comeback from the Bombers did lead to Hebratron's latest We Are Essington classic:
---
The Christian Petracca Collection
If you ask me, two out of his 4 goals were moving pictures good enough to get into MONA.
The opening goal of the night from 55m out off a couple of steps:
And the winning goal deep into the last term, beating 2 Saints defenders in close quarters, getting a Warnie-esque leg break on his kick at goal, and getting on the right side of the AFL not bothering to send any goal line cameras to Alice Springs:
Quite ironic that a leg break would happen against the team that Warnie so faithfully supports.
The standout performance of The Trac led to this comment from /r/afl:
"If you want to measure an angle, use a protractor. If you want to win a game, use a Petracca." – /u/TenaciousBean73
---
A Balta from the blue
Lovely kick from a quality young player.
---
Zak Butters streaming into goal on Saturday, certain to have a shot on goal
Only to hit what could be best described as an imaginary pothole, his left leg got caught underneath his body, and it hyper-extended for good measure.
The footballing version of Devon Loch in the Grand National.
---
Jake Riccardi, the worst player on the ground in the Fremantle vs GWS game:
Bearing in mind, JAKE KICKED 4 GOALS: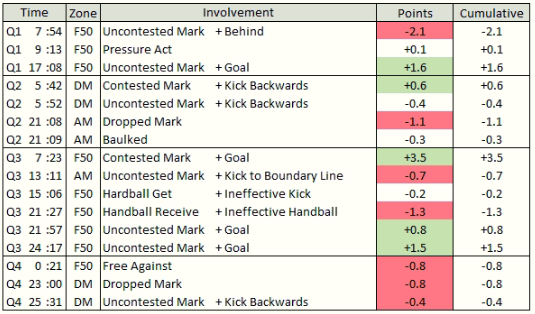 Obviously the folks who record the Official Player Ratings on the AFL website were pissed off that he's not related to Peter Riccardi, although oddly enough, whenever I go to type Riccardi, it always autocorrects me into typing Ricciardo.
It's muscle memory from those F1 reports.
---
Charlie Dixon takes the piss out of the Swans defence
The sight of a big Dixon swinging from side to side.
---
Thursday night between Richmond and West Coast was a high quality game
Who can forget Luke Shuey contracting a severe case of Bubbleitis and forgetting how to kick:
And Jack Riewoldt getting such a severe case of FIGJAM at the end of the game, that he attempted a left-footed snap from 15m out with barely any angle.
Richmond had been kicking at 100% at goal, given all 3 behinds were rushed.
Riewoldt missed.
DIMMA WASN'T LAUGHING, JACK.
---
Clive Palmer's spies are in Alice Springs
---
Carlton fans after Carlton let them down again
---
A comment from an umpire in the 3rd Quarter of the Carlton-Collingwood game:
"Holding, Cox."
Hehehehehehehe.